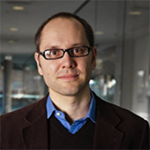 PROFESSOR
ALISTAIR McEWAN
BEng(Computer)/BComm Sydney, PhD Oxford
Ainsworth Chair of Technology and Innovation
University of Sydney & Cerebral Palsy Alliance
Dr Alistair received his PhD from the University of Oxford in 2005. He is currently Ainsworth Chair of Technology and Innovation within the School of Electrical and Information Engineering conducting research into bioelectronics, the electrical and optical properties of tissue and disabilities such as cerebral palsy. He works closely with clinicians from a number of hospitals in Sydney, including the Royal Prince Alfred Hospital, Westmead Hospital, Royal North Shore and Nepean Hospital. His research focuses on using signal processing, electronics and modelling to understand the effects of the impedance of tissue as a biomarker in neurology, cardiology, musculoskeletal tissue and the effect on neuromodulation.
CAREER RESEARCH HIGHLIGHTS
Research Highlight 1
I developed a highly portable and compact neuroimaging system based on electrical impedance for use in acute stroke and epilepsy.
RESULT
This work resulted has been trialed in three London hospitals and gained the commercial interest of Philips and GE.am has made is in the development of biomaterial for regenerating large bone defects, which led to a global licensing agreement and a $1.6M grant from the NSW Medical Devices Fund for clinical translation.
Research Highlight 2
I developed a frequency synthesiser IC design suitable for low volume cost, low–power wireless communications.
RESULT
This was recognized for potential for biomolecular microarrays, medical instrumentation and for industry commercialisation by Analog Devices, UK.
Research Highlight 3
I developed the first finite element simulation to demonstrate the effects of electrode geometry on contact impedance and resulting biosignals
RESULT
This approach resolved a key issue for the industry partner in this linkage project and the published method has been taken up widely in the field.
Research Highlight 4
I have developed a NIR spectroscopy measurement system for assessment of newborn body composition without the need for including the difficult measurement of length.
RESULT
This system was assessed in a Gates foundation sponsored field trial shown to be the first model to estimate body composition on a single site of the body as a potential low-cost screening tool for newborn malnutrition.
Research Highlight 5
I am part of a team that is identifying the use of physiological signals to predict adverse events in the neonatal intensive care unit and resuscitation devices that may not be suitable for preterm infants.
RESULT
We have identified several algorithms that are better able to predict adverse events including intraventricular hemorrhage or stroke and several resuscitation devices that suggest standards and guidelines should be reviewed.