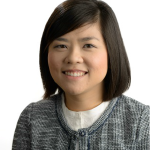 BSc Monash University, PhD University of Melbourne
ARC DECRA Fellow and Scientia Fellow
School of Chemical Engineering
UNSW Sydney
Dr Rona Chandrawati graduated with a BSc (Biotechnology) from Monash University and obtained her PhD from the Department of Chemical and Biomolecular Engineering at The University of Melbourne in 2012. She was awarded a Marie Curie Fellowship to work in the Department of Materials and Bioengineering at Imperial College London and was then appointed a Lecturer at The University of Sydney in 2015. In 2018, she joined School of Chemical Engineering UNSW Sydney as an ARC DECRA Fellow and a Scientia Fellow. Dr Chandrawati heads the Nanotechnology for Food and Medicine Laboratory. Her research interests include developing enzyme-like catalysts for drug delivery; designing polymeric- and lipid-based nanomaterials for sensors in food safety and health monitoring; and bioengineering synthetic mimics of cells.
CAREER RESEARCH HIGHLIGHTS
Research Highlight 1
Nanoparticle colorimetric sensors to detect disease biomarkers.
RESULT
I developed a nanoparticle-based assay that detects blood clotting factors, cancer biomarkers, or heavy metal ions at clinically relevant levels. This assay will be valuable in prompt identification and early intervention for controlling potential life-threatening complications.
Research Highlight 2
Local delivery of therapeutic molecules via enzyme biocatalysis.
RESULT
A number of key therapeutic molecules have short plasma half-life and they cannot be effectively delivered exogenously. I encapsulated enzyme within implantable biomaterials and demonstrated their unique ability to continuously generate therapeutic molecules at physiological conditions. These studies illustrate that tools of enzymatic catalysis enable opportunities associated with the localized synthesis of therapeutic agents for delivery to cells in the immediate vicinity.
Research Highlight 3
Nitric oxide delivery for glaucoma therapy.
RESULT
Nitric oxide (NO) is a molecule that has been shown to lower eye pressure in glaucoma eyes, but NO has a short half-life and cannot be delivered effectively via eye drops. I developed enzyme-containing polymer implants and showed how we can instruct the eyes to locally generate NO in the right dose and at the right time towards glaucoma therapy.
Research Highlight 4
Multicompartment particles for the creation of artificial cells.
RESULT
Engineering artificial cells has generated significant interest due to its impact as a powerful next-generation therapeutic tool in biomedical research. They can be used to substitute missing cellular functions and to treat diseases at the sub-cellular level. I developed artificial cells using hollow polymer shells and liposomes, which resemble biological cell membranes and organelles, respectively. I reported successful enzymatic catalysis in this synthetic construct to mimic enzymatic reactions in cells.
enerative medicine.
Research Highlight 5
Colorimetric sensors to detect food spoilage.
RESULT
I developed a colorimetric indicator for monitoring food quality in real time with the aim to reduce food waste and food poisoning. This indicator can be integrated in food packaging for an easy readout.