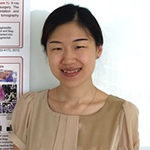 BEng/BMedSc Sydney, PhD Sydney
NHMRC Early Career Fellow
Kolling Institute, Royal North Shore Hospital
Dr Jiao Jiao Li is an Australian National Health and Medical Research Council (NHMRC) Early Career Fellow at the Kolling Institute, University of Sydney at Royal North Shore Hospital, who completed her PhD in Biomedical Engineering at the University of Sydney in 2015. She is working in the field of regenerative medicine research, specifically focusing on developing biomaterials-based solutions to regenerate bone and cartilage tissues, as well as investigating the mechanisms underlying degeneration and regeneration following joint injury. Building on this, she is developing novel strategies to combat bone and joint diseases such as osteoarthritis, using a combination of techniques in engineering, materials science, biomechanics, cell and molecular biology, and animal models.
CAREER RESEARCH HIGHLIGHTS
Research Highlight 1
I developed a biphasic scaffold composed of composite materials, which could be implanted into injured joints to repair damaged osteochondral (integrated bone and cartilage) tissue.
RESULT
This work resulted in a novel scaffold that could satisfy the complex regenerative requirements of different tissues (bone and cartilage), thereby contributing to the advancement of knowledge in tissue engineering of orthopaedic interfaces.
Research Highlight 2
I developed a method of reinforcing ceramic scaffolds using multiple polymer coatings, which significantly enhanced the mechanical and biological properties of the scaffolds for applications as bone graft substitutes.
RESULT
This novel reinforcement method is simple and practical for applying to ceramic scaffolds which are already in clinical use as bone graft substitutes, which creates an accessible pathway for developing biomimetic constructs with improved properties and potential for rapid clinical translation.
Research Highlight 3
I am part of the only Australian team bringing osseointegration implants as a method of rehabilitating patients with limb amputations, and have been conducting clinical research relating to the outcomes of osseointegration surgery in different cohorts of amputee patients.
RESULT
These studies confirm the positive outcomes of osseointegration for amputee patients compared to traditional methods of rehabilitation, including significant improvements in quality of life, mobility and function. This research is contributing to progress in establishing osseointegration as a standard of care for amputee patients.
Research Highlight 4
My recent research focuses on developing practical solutions for treating joint injury, by understanding the post-injury mechanisms underlying degeneration and regeneration, and combining cell- and biomaterials-based strategies to combat osteoarthritis progression.
RESULT
This research highlights the importance of understanding the post-injury joint environment in developing effective treatment strategies to prevent the onset of osteoarthritis, as well as the benefit of exploring combinatorial strategies involving cell therapy and customised implants in regenerative medicine.
Research Highlight 5
I am part of an active and multidisciplinary team working on the development of synthetic materials for the repair of large and/or load-bearing bone defects, and have been substantially involved in conducting preclinical tests in large animal models.
RESULT
This research has resulted in a number of patents and two novel materials which have undergone extensive preclinical testing, with the involvement of international collaborators and industry partners. These materials have potential to be used in the future as effective bone graft substitutes for the long-term repair of large and/or load-bearing bone defects.