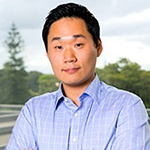 ASSOCIATE PROFESSOR
JINMAN KIM
BCST Sydney, PhD Sydney
Associate Professor, School of Information Technologies
A/Director, Biomedical and Multimedia Information Technology (BMIT) Research Group
Research Director, Nepean Telehealth and Technology Centre (NTTC), Nepean Hospital
University of Sydney
Associate Professor Jinman Kim received his PhD in Computer Science from the University of Sydney in 2006. He was an ARC Postdoctoral Research Fellow at Sydney and then a Marie Curie Senior Research Fellow at the University of Geneva, prior to joining the University of Sydney in 2013 as a Faculty member. Dr Kim is an A/Director of the BMIT responsible for the external engagement and research commercialisation, as well as leading the research in image analysis and visualisation. He has produced a number of impact publications and received multiple competitive grants. He is also the research director for the NTTC at the Nepean hospital where he is in charge of translational research. Dr Kim is actively involved in the imaging and visualisation communities where he is the V/P of computer graphics society (CGS) and also the co-chair of the Computer Graphics International (CGI) 2018.
CAREER RESEARCH HIGHLIGHTS
Research Highlight 1
We developed a set of algorithms in multi-modal medical image volume rendering and visualization, including saliency-based visual optimizations, depth-based volume rendering, computationally efficient rendering, and mixed reality visualization.
RESULT
A new approach to visualizing PET-CT image data resulted in improved depiction of the abnormalities. Moreover, this research demonstrated that novel semantic extraction (via image processing) can be coupled with volume rendering for visualization of medical images. In another project, we developed a visual analytics tool to visualize 4D functional MRI data.
Research Highlight 2
We developed a set of deep learning algorithms (including cascaded, ensemble, unsupervised feature learning) for the segmentation, detection, retrieval and classification of medical images.
RESULT
The algorithms have been applied to many image analysis problems among multiple imaging modalities, e.g., Adrenal tumour detection, Shape modelling of a femur from MRI, Melanoma disease classification, PET-CT structure detection and segmentation, OCT eye imaging, unsupervised detection of events in cell videos, and others.
Research Highlight 3
I am the Research Director of the Nepean Telehealth Technology Centre (NTTC) at the Nepean hospital to conduct state of the art research in Telehealth technologies including smart health Apps, remote patient monitoring and hospital data analytics.
RESULT
The NTTC has rapidly grown and have produced number of high impact research projects that are research-driven and directly implemented at the hospital. One of our project, home hemodialysis App was awarded the Health Secretary Innovation Award at the NSW Health Innovation Symposium in 2016, and the App is currently being rolled out across the NSW State. Another project, funded by the 'Ministry of Health Integrated Care: Planning and Innovation Fund' developed a new predictive modelling algorithm and visualization tool to analyse the patients in the Emergency Department.