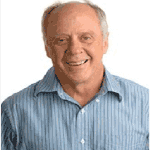 ASSOCIATE PROFESSOR
COLIN DUNSTAN
BSc Sydney, MSc UNSW, PhD Sydney
Associate Professor
School of Aerospace, Mechanical and Mechatronic Engineering
Associate Professor Colin Dunstan is a respected authority on bone metabolism with over 25 years of experience in both clinical and basic research. He was part of the team that identified osteoprotegerin, RANK ligand and RANK as central regulators of bone resorption. He has extensive experience in both academic and industry (Amgen) settings. He currently serves on the editorial boards of Endocrinology and the Journal of Bone and Mineral Research. Current research interests are in the local regulation of bone remodelling and in interactions between bone cell activity and cancer cells.
CAREER RESEARCH HIGHLIGHTS
Research Highlight 1
During clinical research into the bone diseases of patients receiving chronic haemodialysis, I contributed to the understanding of aluminum toxicity in the Australian renal failure population.
RESULT
This work indicated the importance of this issue leading to bone pain and fractures and led to marked changes in the dialysis protocols and water treatments required for the dialysate.
Research Highlight 2
I have also participated in the investigation of the regulation of bone formation by growth factor treatments and by genetically modifying mice leading the discovery of the periosteal anabolic effects of fibroblast growth factors in vivo, and characterizing the role of osteocalcin though osteocalcin gene knockout leading to a nature publication. lytic effects of human breast cancer cell lines in a mouse xenograft model.
RESULT
These discoveries have implications for the development of new treatments to build and repair bone. Of particular note was my contribution to an article in Nature describing the phenotype of osteocalcin knockout mice.
Research Highlight 3
I was a part of the research team that discovered roles of RANK, RANKL and osteoprotegerin (OPG) in the regulation of bone resorption and in the discovery of denosumab which targets this regulatory pathway.
RESULT
These studies have revolutionized understanding of the regulation of osteoclast activity and led to the development of Denosumab as a clinical candidate for the treatment of osteoporosis and metastatic bone disease, now approved for clinical use worldwide. This importance of this work is highlighted by two publications in Cell and one in Nature.
Research Highlight 4
My more recent research has focused on interactions between cancer cells and bone cells and the processes driving bone metastasis.
RESULT
These studies have illustrated the importance of the host tissue environment in driving cancer metastasis to bone leading to rational treatments to impact these interactions.
Research Highlight 5
Finally, I currently have an active research interest in the use of synthetic materials for the repair of bone defects. This research has led to a number of patents and two novel products in preclinical evaluation for bone defect repair.
RESULT
These materials promise to replace the use of bone grafts and prevent the associated second surgery, for bone harvesting.